This month we are taking a dive into the world of regrind plastic.
So what is regrind plastic? Well, it is a combination plastic, it is a mix of virgin plastic and previously processed plastic.
It is a great way to recycle plastic and turn it into a new product. A bonus of using regrind plastic is that manufacturers agree that if up to 30% of regrind plastic is mixed in with virgin plastic it does not affect or compromise the properties that a virgin plastic product would have (Timm, 2020). However, regrind is not ideal for highly critical applications. Precision and specificity projects sometimes cannot tolerate the slight differences that are in regrind products. So if your using it for one of those things have a chat with our lovely sales team before you buy to see if its right for you.
Here at People in Plastic our stack and nest crates all come in regrind options. The easiest way to identify which of our stack and nest crates are regrind is the colour. All regrind crates are black! Whilst these crates are almost the same as their virgin counterparts, one of the major difference is that the regrind products are not food grade. Though a bonus of using regrind products is that they are significantly cheaper!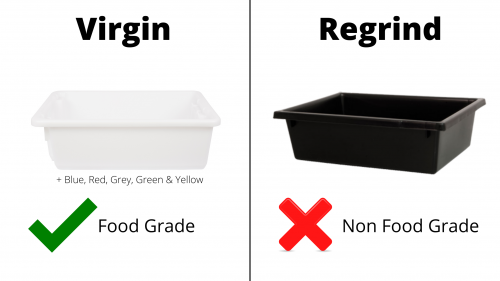 As using regrind plastic allows us to make plastic products using recycled plastic, it makes it a more environmentally friendly plastic option. By using recycled plastic it reduces the amount of plastic going to landfill every year. It also uses less fossil fuels and helps to reduce greenhouse gas emissions created in the plastic production processes.
So next time you are looking at our stack & nest crates maybe consider picking up one of our more ecofriendly regrind crates. You can checkout out our regrind crate range online right here https://peopleinplastic.com.au/?s=regrind&post_type=product&x=0&y=0
References:
Al Timm, 2020. https://www.kaysun.com/blog/regrind-saves-on-money-and-materials
Mid Continent Plastics, 2019. https://www.midcontinentplastics.com/blog/recycled-plastics-vs-virgin-resins-which-one-is-better/